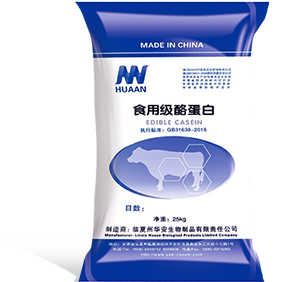 Edible Casein
Description:Edible casein, also known as casein, is white or light yellow particles and powder made from fresh yak milk or koala (milk residue) through dissolution, filtration, degreasing and other processes. It is a food ingredient with high protein and high nutrition. Available mesh range: 40-110 mesh, 30-60 mesh, 60-90 mesh, 90-110 mesh.
Moisture %

≤12.0

Protein(dry base) %

≥92.0

Fat%

≤2.0

Ash content %

≤2.0

Acidity T°

45 T°

Color

Pale yellow or milky white

microorganism Standar

Total bacteria / g

≤30,000

Coliform group cfu/g

≤10

Yeast cfu / g

≤50

Mold cfu/g

≤50

Staphylococcus (yeast coagulin)/0.1 g

Negative

Thermophilic organism / g

≤5,000

Salmonella / 25g

Negative
Other information
Functional features:
Edible casein and its products have high nutritional value and can promote the absorption of calcium, iron and other minerals by human body. Casein contains 8 kinds of amino acids necessary for human body, which can provide essential amino acids for human growth and development. Casein is a kind of full price protein and multifunctional food additive. According to the product efficacy, it can be used as nutritional protein additive, thickener, food stabilizer and emulsifier in all kinds of food, health food and beverage.
Packing: plastic woven bag or composite kraft paper bag with polyethylene inner membrane, net weight 25 kg
Storage: store in cool and dry conditions to prevent mildew and moisture
Transportation: Highway and railway
Period of validity: 12 months from the date of production under appropriate storage conditions
Range of application
It is widely used in all kinds of food, health food and all kinds of drinks, such as vegetable fat powder (creamer), pet feed, dairy products, sodium caseinate, pharmacy, etc.